Post Construction Cleaning
Dominguez Cleaning Services, Inc has been cleaning home and office construction areas for 8 years. Our post construction cleaning services are second to none when it comes to quality, offered at amazingly competitive rates and quick turnarounds. Dominguez Cleaning Services, Inc's staff is trained to reflect our values of integrity and superior service.
10% Off
Post Construction Cleaning
★★★★★
Mention Code "SUMMER"
Expires 04/30/2021
Post Construction Cleaning Services
Dusting and washing all surfaces
Vacuuming and cleaning all flooring
Window & glass partition Cleaning
Dust and clean all furniture & fixtures
Kitchen and restroom cleaning and sanitization
Post Construction Cleaning
Residential Post Construction Services
Whether it's after new construction, remodeling or repairs, Dominguez Cleaning Services, Inc will pick up where the construction crew leaves off. Post construction cleaning is all about the attention to detail. Dust has a way of sneaking into every nook and crevice.
Fortunately, Dominguez Cleaning Services, Inc has a way of finding all of the unwanted dirt, dust and debris and making sure everything is clean, spotless, and ready for the finishing touches!
With over 8 years of post construction cleaning experience, Dominguez Cleaning Services, Inc's attention to detail and dedicated construction cleanup crew goes unmatched. From floor to ceiling, all of the baseboards, appliances, cabinetry, windows and light fixtures will be in clean, move-in condition. Call (215) 297-6465 for a free quote.
Post Construction Cleaning for Commercial Properties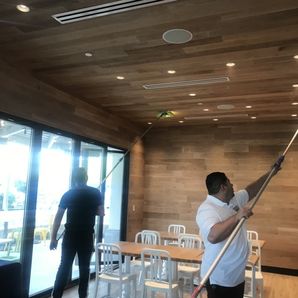 In this industry, we understand that time is money. That's why businesses have trusted Dominguez Cleaning Services, Inc since 2013 with their post construction cleaning needs, because we have the best cleaners ready to take care of your business quickly and thoroughly.
Dominguez Cleaning Services, Inc has proudly provided post construction cleaning services to a wide range of well-known businesses, including Primax Construction, Sachse Construction, AutoZone, Advanced Auto Parts, Dollar General, and many other retail stores.
Dominguez Cleaning Services, Inc's post-construction cleaners clean and polish from ceiling to floor, removing all construction dust and debris from the space. You can rest assured that when Dominguez Cleaning Services, Inc is on the job, your building will be clean, fresh, and ready for occupancy.
In business since 2013, Dominguez Cleaning Services, Inc provides superior post construction cleaning to both homes and businesses. Dominguez Cleaning Services, Inc is the trusted leader in post construction clean ups after a remodel, new construction build, commercial enhancements, and much more. Call us at (215) 297-6465 to learn more about our post construction cleaning services!
---
Call for Fast FREE Quote
---